Ringlock Scaffolding is also called disc-type scaffolding.For the Ringlock Scaffolding products,the manufacturer explains the product composition in detail.
The Ringlock Scaffolding is divided into vertical pole, horizontal pole and inclined pole. There are eight holes in the disc of the vertical pole, four small holes for the transverse pole and four large holes for the inclined pole. The connection mode of the horizontal bar and the inclined bar are all plug-in type, which can ensure that the rod is firmly connected with the vertical bar.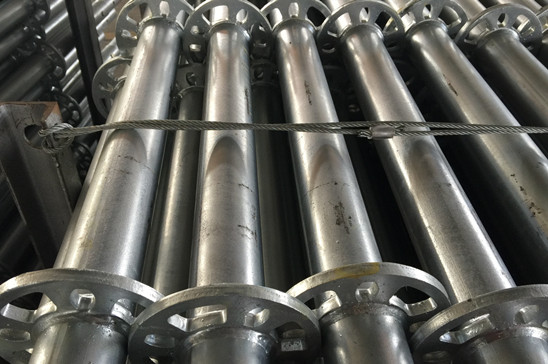 The Ringlock scaffolding crossbar and the slanting bar joint are specially made according to the circular arc of the pipe, and are in full-surface contact with the vertical steel pipe. After the bolt is tightened, the force is applied at three points (the upper and lower points of the joint and the bolt to the disc) Firmly fixed to increase the structural strength and transmit horizontal force, the crossbar head and the steel pipe body are fully welded and fixed, and the power transmission is correct.
The slanting head is a rotatable joint, and the slanting head is fixed to the steel pipe body by rivets or loose bolts. As for the connection method of the poles, the seamless pipe joint sleeve is mainly used, and the joint sleeve is fixed on the pole, and no additional components are combined, which can save the trouble of material loss and finishing.